HOLOGATE VR
Hologate is a multiplayer virtual reality attraction that transports players into a new dimension. Once the players put on the headsets, the advanced technology creates a realistic experience unlike any other. It is a fully immersive game that is suitable for players of any age or skill level.
Hologate offers multiple games that are easy to learn but difficult to master. The players are transported to a new world where they could be battling robots and dragons, having a snowball fight or fighting off zombies.
The games can accommodate teams up to 4 players in a physically engaging experience. Hologate creates a unique and realistic environment with revolutionary technology that eliminates motion sickness. Play today at Laser Bounce – Queens.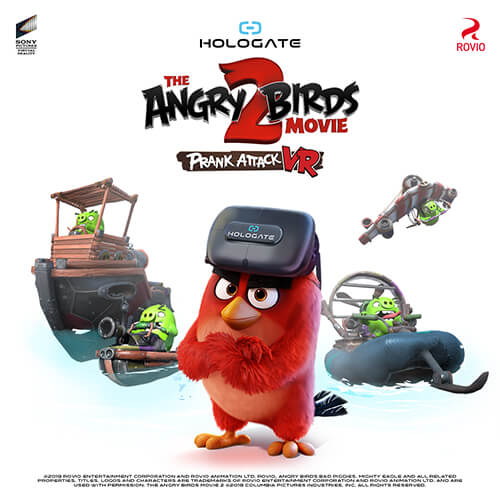 The Angry Birds Movie 2 – Prank Attack VR
Before They Were Frenemies…
The Angry Birds Movie 2 is coming to HOLOGATE!
The award-winning location-based VR platform, along with Sony Pictures Virtual Reality (SPVR) and Rovio Entertainment, brings you a brand new gaming experience. Up to four players can immerse themselves in a first-person VR world where the only thing standing between hordes of bad piggies and Bird Island is you… And your GIANT SLINGSHOT!
The game experience is inspired by The Angry Birds Movie 2, and acts as a precursor to the events in the movie which finds the flightless birds and scheming bad piggies in the midst of an ever-escalating prank war. It's up to you and three of your Bird Buddies to stop them from turning your idyllic home into a messy, smelly… Pigsty! Armed with your trusty slingshot, you must blast the baddies with coconuts, melons, bowling balls (and anything else you can get your feathered fingers on), to repel the Piggy Fleet from Bird Island!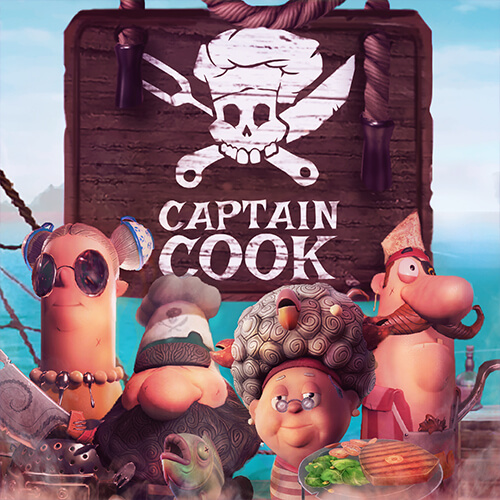 Captain Cook
Family-friendly, cooperative cooking game
Yar! All that lootin' and plunderin' on the high seas can take its toll. And on the Black Crumpet, it's nearly lunchtime! Who will feed the dozens of hungry pirates?
Luckily, you and your friends are certified, seadog chefs! Cut, cook, and serve the ordered dishes and drinks before there's a meal-time mutiny.
Heave ho, me hearties!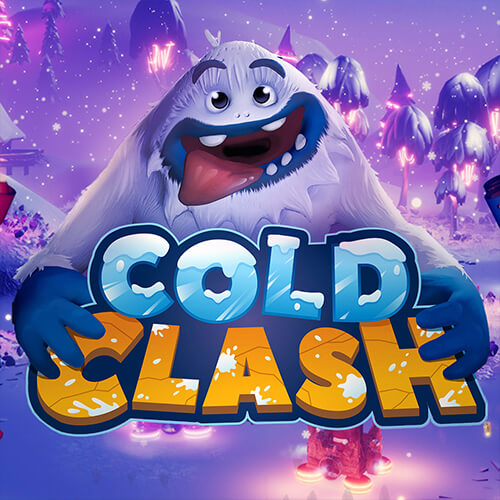 COLD CLASH Snowball Shooter
Experience a snowball fight like never before. Maneuver your hovercraft around on the frozen lake to collect more gold coins than your opponents, but it isn't that simple. You must duck, bob, and weave to escape the flying snowballs coming from the other players and a crazy, territorial yeti. Get the advantage by grabbing the power-ups before your opponents do. Your snowball launcher will transform into fun and wacky weapons you have to experience to believe. This family-friendly game will win you over with its cute design and competitive gameplay and is guaranteed to be a virtual reality party smash.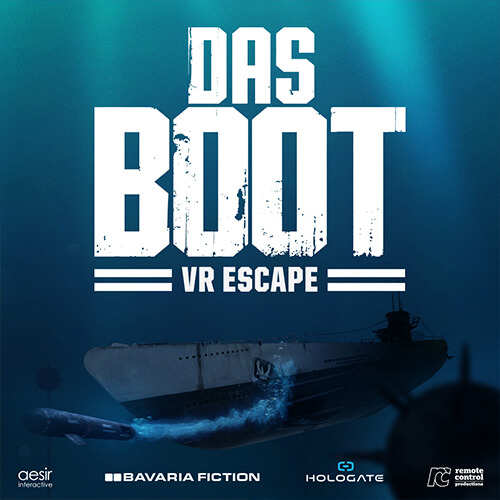 DAS BOOT VR ESCAPE Escape Adventure
In the "Das Boot" VR experience on HOLOGATE, players are sent back to 1942 to commandeer a class VII type German WWII U-boat and complete a dangerous mission based on historical events. In the North-Atlantic Sea, the crew is on the silent hunt for a convoy of Allied freighters, but instead, encounters a British destroyer. Through desperate diving maneuvers, the crew fights for their lives to try to escape the fierce attack of the destroyer. In this immersive scenario, you, and up to 4 of your friends will have no other choice than to work hand-in-hand under full pressure or sink into the dark depths of the sea.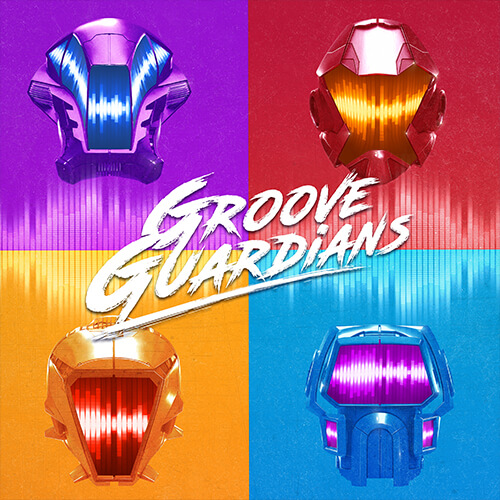 Groove Guardians Rhythm Game
GROOVE GUARDIANS was created for those who enjoy challenging their friends and family in electrifying music, rhythm, and dance battles. Players quickly find themselves becoming one with the groove through the irresistible music tracks and energizing full-body gameplay. The multiplayer synchronized movement is hypnotizing to watch and is an instant spectator magnet. GROOVE GUARDIANS combined with HOLOGATE's open-air layout, interactive lighting, and gameplay displays create the first-ever virtual reality multiplayer dance floor which opens up unprecedented and outrageously fun party concepts for every entertainment location.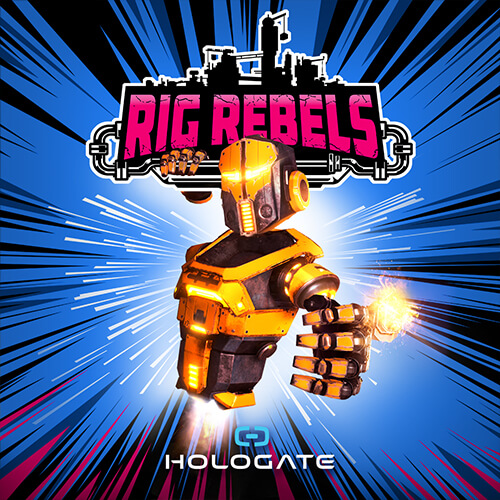 RIG REBELS Player vs. Player
In Rig Rebels team up with your friends and raid a futuristic facility in this action-packed PvP shoot-fest, where players can use their hands to move around the highly-detailed, steampunk environment.
Great for experienced gamers or customers looking for a competitive challenge, Rig Rebels requires players to split their focus between shooting, collecting resources, shields and power-ups, as well as movement and position.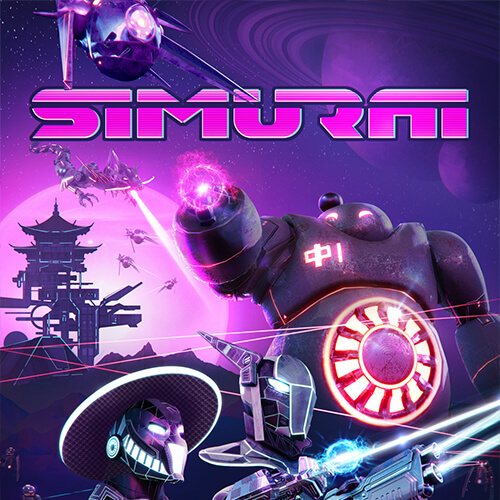 SIMURAI Action Shooter
SIMURAI is a team-based cooperative shooter game that will challenge all your skills. Together with up to 4 players, your mission is to defend a futuristic base on the home planet of the SIMURAI. Work together as a team to fend off waves of menacing alien mech-spiders, robots, and drones to prepare yourselves to defeat bigger enemies like the giant Sumo-Bot and the mighty Dragon-Boss. Power-ups will transform your blaster and give you special powers. Don ́t forget to dodge the lasers if you want to beat the high-score. With high-end graphics and a unique retro-arcade look, this game has become HOLOGATE ́s signature title. SIMURAI is a game for all ages and equally suitable for kids and adults.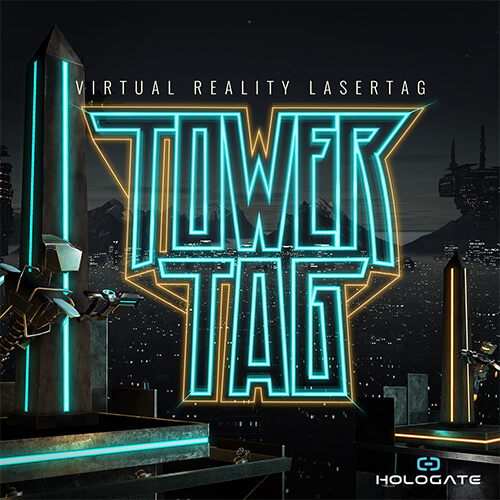 Tower Tag Player vs. Player
Tower Tag, the global esports phenomenon where teams battle each other in epic laser tag VR has joined the HOLOGATE family. In Tower Tag you will find one of the most anticipated multiplayer experiences in the world, and for those of you longing for a true esports game for your HOLOGATE, look no further. TOWER TAG is drawing thousands of spectators into arenas to watch competitive tournaments featuring the world's best players. Accommodating up to 8 players, in multiple game modes, Tower Tag is a perfect match for the HOLOGATE ARENA.
With its intuitive movement and combat, Tower Tag is easy to pick up, yet hard to master. Using their blasters to conquer towers, players can then move between towers and use the towers for cover. As they move from tower to tower players can earn points by completing specific objectives.
In the Deathmatch game mode, players compete as a team to take out the enemy players to earn points.
In the Elimination game mode, every single elimination scores a point for your team. The team with the highest score at the end of the match wins!
In the Goal Tower game mode, the enemy team's Goal Tower must be conquered to earn points.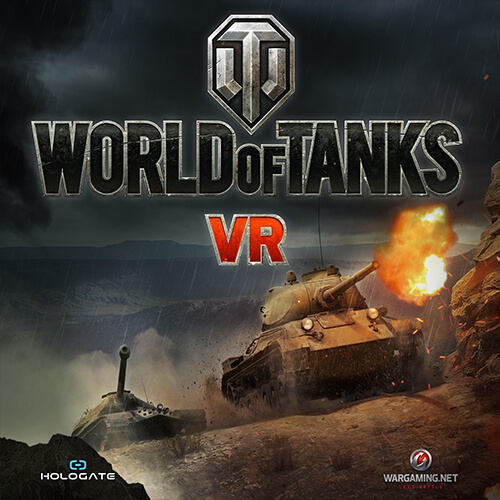 World of Tanks VR Tank Battle
Take control of a devastating 50-ton combat tank and engage in frantic player vs. player frontline battles! Up to eight players can clash in this thrilling, tactical warfare experience.
In partnership with WARGAMING, the creators of the massively popular multiplayer online game, 'World of Tanks', HOLOGATE introduces 'World of Tanks VR' for the HOLOGATE ARENA. The immersive first-person action lets players maneuver through highly-detailed battlefields with the goal of being the last tank standing!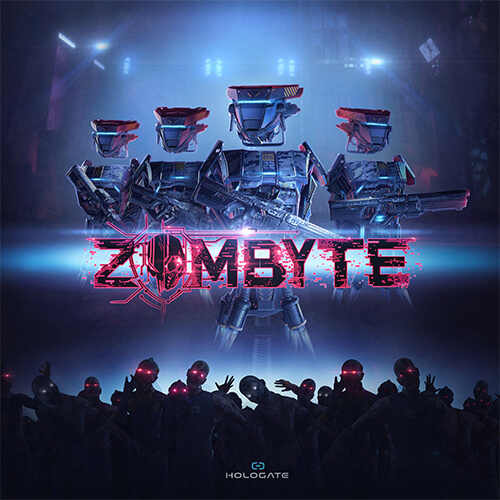 ZOMBYTE Zombie Shooter
Band together as a Z.W.A.T. – Zombie Weapons And Tactics team to engage in an adrenaline-soaked battle against wave after wave of oncoming hoards of the infected undead. Drawing upon the company ́s long history in high-end cinematic visual effects for feature films, real locations were digitized using the latest laser scanning and photogrammetry technology to achieve an unparalleled state of realism. The end result is a terrifying, heart-pounding, first-hand zombie apocalypse onslaught that has its creep factor ratcheted up from the highly detailed gaming setting of an abandoned, decrepit, industrial warehouse.