Open Play in Bounce & Ballocity
Open Play in Bounce & Ballocity and Unlimited Video Game Fun Card*
Open Play in Bounce & Ballocity and Unlimited Video Game Fun Card* PLUS 2 Games of Laser Tag
4 Games of Laser Tag and Unlimited Video Game Fun Card PLUS 1 Game of Mission: Impossible
*SUBSTITUTE UNLIMITED VIDEO GAME CARD FOR A 25 CREDIT ALL ACCESS GAME CARD
20 GUEST MINIMUM – $150 NON-REFUNDABLE DEPOSIT IS REQUIRED
All packages are 3 hours long, no discount for less time. Available weekdays only, not valid on select days and holidays, call for more information.
Pricing is only valid organized groups only, groups may be required to provide NYS Certificate of Authority or NYS Tax exemption form required.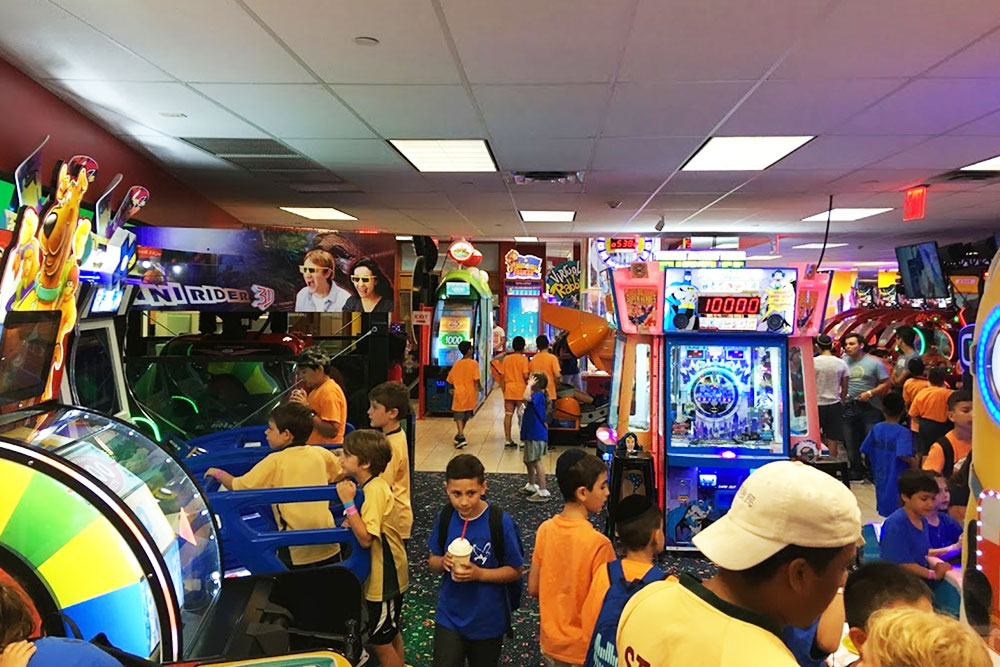 MISSION IMPOSSIBLE $3/person

3D RIDER $3/person

PICK 2 'MINI-ATTRACTIONS' $5/person

ALL 3 'MINI ATTRACTIONS' $7/person

ADD 20 CREDIT FUN CARD $5/person

HOLOGATE VR $7/person
Add ons must be purchased for entire group. Pricing is valid for Group events only.
1 Slice with Unlimited Soda/Juice $3.95

2 Slices with Unlimited Soda/Juice $5.95
*Unlimited drinks available only during eating time lunch rooms are available on a first come first served basis, room are not private.
Climb, Blast, Bounce and Explore with access to both Bounce and Ballocity Arenas. Navigate through our giant Ballocity arena and blast the 1000's of foam balls throughout the playscape. With numerous cannons, volcanos and ball dumps – Ballocity is an experience like none other. And Bounce away in the Bounce Arena with giant inflatable bouncers, obstacle course and slides. Great for ages up to 12 years old.
Zap your way through our multi level LED arena and aim for the high score. With multiple LED targets and our futurist arena, you'll have an adventure thats out of this world. Great for ages 5 to adults.
You can play the game or you can be the game. Hologate VR is a 4-player fully immersive virtual reality attraction that is truly one of kind. With advanced graphic technology and FULL sensory immersion you can experience the ultimate level of entertainment. When you put on the headset and grab hold the futuristic phaser, you will be immediately transported to a new world; a new reality; a new dimension of FUN! – Games are available every day.
VIDEO GAME FUN CARD**
Dont let the fun stop with unlimited video games. Race your Friends to first place on our state of the art driving games or see who has the best shot while shooting some hoops.
**Unlimited Video Game Card works on most video games and WILL NOT ACCRUE E-TICKETS. Select games such as e-ticket dispensing games, photo booth, 3D simulator, cranes and prize redemption games are some that are not included.